* A minimum order of one dozen per item/flavor is appreciated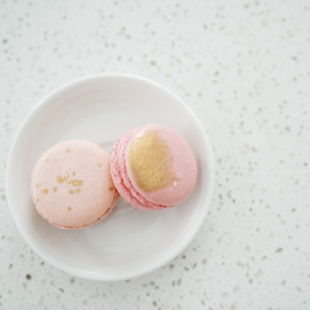 French Macarons
$25.00 per dozen
Vanilla | Chocolate | Raspberry | Black Sesame + Salted Caramel | Cherry Chocolate | Chocolate Salted Caramel | Rose Raspberry | Cotton Candy | Lemon | Mint | Matcha | Raspberry Lemon | Chocolate Mint | Blueberry | Cinnamon Bun | Chai Spiced | Bubblegum | Champagne | Marshmallow | Fruity Pebble | Salted Caramel | Creme Brûlée | Birthday Cake | Cookies + Cream | London Fog | Toasty Mallow
*One dozen per flavour.
If you are looking for a specific variety not listed above, let us know and we will see what we can do to.
Brownies
$25.00 per dozen
Pretty Sweet | classic dark chocolate brownie studded with milk chocolate chunks
Red Velvet Swirl | red velvet brownie with cream cheese swirled in
Salted Caramel | dark chocolate brownie involved with salted caramel
Black & White Cheesecake Brownies | chocolatey brownie swirled with cheesecake
Smarties Brownies | dark chocolate brownie covered in smarties
White Chocolate Blondies | vanilla brownie batter studded with white chocolate
Cookies + Cream Blondies | vanilla brownie batter with crumbled oreos
Squares/Dainties
$25.00 per dozen
Hello Dolly's | graham base square with a gooey centre filled with milk, white, and dark chocolate, toffee bits, and pecans
Lemon Slice | shortbread base baked with a tart lemon custard, topped with icing sugar
Peanut Butter Marshmallow Squares | the old classic; made with regular or coloured marshmallows
Caramel Streusel Shortbread Bars | shortbread base with a layer of dulce de leche, topped with shortbread streusel
Raspberry Almond White Chocolate Bars | white chocolate blondie base with raspberry jam and toasted almonds
Lucky Charms Marshmallow Treats | just like a rice krispie treat, but better
Cap't Crunch Marshmallow Treats | just like the rice krispie treats, but way better and with sprinkles!
Please allow a minimum of one weeks notice for any order | *For larger orders, two weeks or more notice is appreciated
**If you are inquiring about an order with less than one weeks notice you must call us rather than email.
For wedding inquiries email: vicki@prettysweetco.com
\\
Please note that we do book up quite quickly some weeks and have the tendency to be fully booked for some weekends weeks in advance.
If you know the date you would like to order, let us know!